It's all so …multicultural. KGS
H/T: Reinhard
Listen to the delights of the popular Arabic music.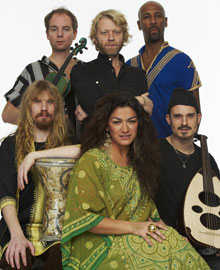 Tarabband it is talked about and acclaimed band from Malmö's cultural melting pot. As of midsummer absolute highlights guest player Tarabband on the Midsummer Eve at Skansen in Stockholm.
The six members, led by the Iraqi / Egyptian singer and sazspelaren Nadin Al Khalidi, is also active musicians in the groups that each fair, the Eastern Bloc and World Mix Orchestra. Together they create a sound where the traditional Arabic musical language gifts to the newly composed folk music.
The Arabic expression "Taraba" is the strong form of energy that occurs in encounters between musicians and audience. Let yourself be carried away by the seductive rhythms of the Orient!
Tarabbands members include:
Nadin Al Khalidi – vocals, saz, guitar
Philip Runesson – violin
Gabriel Hermansson – oud, guitar
Romain Coutama – bass
Dan Smith – percussion, flute
Stephan Earl – percussion
When:

Midsummer Eve June 24, at 16-17