There have always been major splits within the Fattah, but the differences in their attitudes towards the Jewish states have always remained the same, destruction. KGS
Dozens in Fatah threaten to quit over Dahlan ouster
By KHALED ABU TOAMEH
06/13/2011 20:53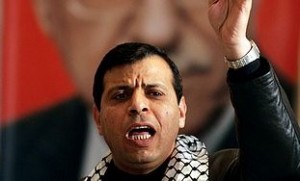 Fatah representatives warn that Abbas-Dahlan dispute could lead to split in faction; Dahlan remains popular among Fatah supporters in Gaza.
Dozens of Fatah members on Monday threatened to quit in protest against the decision to expel former security commander Muhammad Dahlan from the ruling faction.
The Fatah Central Committee, at the request of Palestinian Authority President Mahmoud Abbas (who also heads Fatah), decided over the weekend to expel Dahlan and recommended that he be charged with corruption and other criminal offenses.