Europe is so screwed, the Euro is about to crash and burn, all the while Finnish economic commissioner Olli Rehn believes that there is nothing left to do but to press ahead regardless of the writing on the wall. KGS
H/T: Fjordman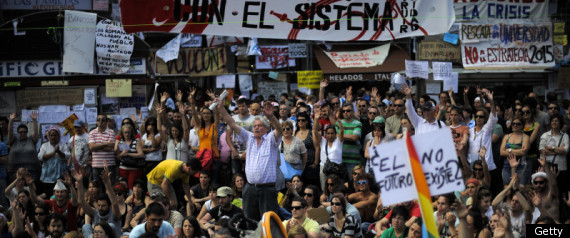 Barcelona protesters vow to remain
Protesters decrying Spain's economic crisis vowed to remain encamped in a central Barceona square, where dozens were injured last week when police moved in to disperse them.
More than 1,000 protesters took the decision in a vote late on Wednesday in the Plaza Catalunya.
"The assembly decided not to leave the Plaza Catalunya until there is a consensus on how to do it," the protesters said in a Twitter message.
They also pledged to find other ways to ensure that the spirit of the nationwide movement continues.
Spain's protests over the economic crisis began May 15 and fanned out to city squares nationwide as word spread by Twitter and Facebook among demonstrators known variously as "the indignant", "M-15" and "Spanish Revolution".
Anti-riot police fired rubber bullets and swung truncheons on May 27 to disperse protesters in the Plaza Catalunya ahead of celebrations of Barcelona's Champions League victory.
A total of 87 people including one police officer were treated, mostly for light injuries.
By that same evening, however, at least 5,000 people were back in the square and some had put tents back up.