This guy should now be a walking target, with U.S. Special Ops coming down on ropes  with a mission to bag him or to double tap him. KGS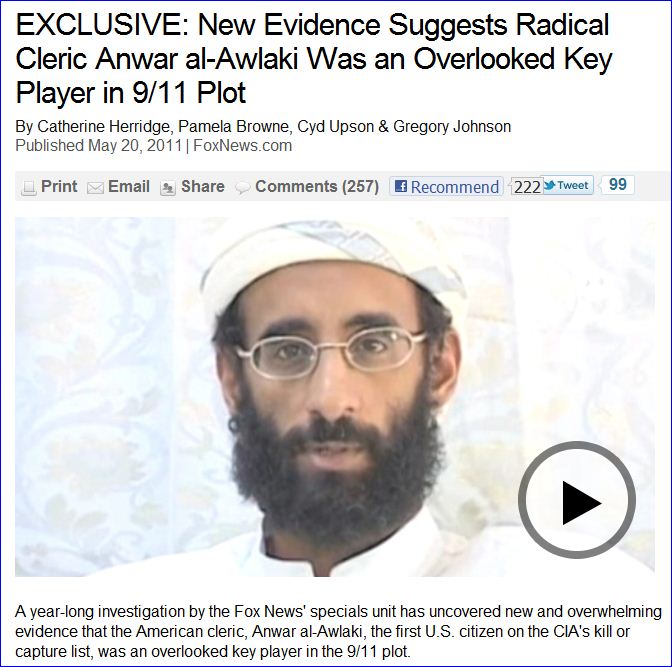 FOXNEWS: In a new hour-long special, "Fox News Reporting: Secrets of 9/11," which debuts May 20 at 10 p.m. EDT, federal investigators go on the record for the first time about their painstaking work to investigate how Awlaki may have facilitated the hijackers in California and Virginia and possibly knew the details of the worst terrorist attack on U.S. soil.
Tune into "Fox News Reporting: Secrets of 9/11," which airs 10 p.m. Friday, 3 p.m. Saturday, 9 p.m Sunday and 12 a.m. Monday, ET.
"It was my feeling that they had to have a network," Criminal PENTTBOM (FBI's codename for the 9/11 case) investigator Jimmy Bush told Fox News in his first television interview.
"There was a mosque and the imam of that mosque was Anwar al-Awlaki, which raised my suspicions."
Anteroom inside the Al- Ribat mosque in La Mesa, Calif. where Awlaki is believed to have met with two of the 9/11 hijackers.
Former FBI Agent Bob Bukowski said the evidence strongly suggested Awlaki and his mosques on the East and West coasts were at the center of a network of helpers that enabled the hijackers to find apartments and obtain fake ids.
"The investigation at the time obviously was very suspicious," Bukowski said. "Knowing and proving are always two different things."