This is but one example of what separates the West from the Muslim East. The ancient precept of "eye for an eye" is greatly misunderstood, it's not a justification for revenge (which this ruling is all about) but one of limitation, regulating the amount of punishment a party could exact from the guilty for an offense committed against them.</p>
In ancient times, and if one had the means and clout to do so, not only the offending party could have "justice" meted out him or herself, but also the entire family and in some cases the entire clan, with acts violence committed against them for generations to come. In many present day situations throughout the Muslim Middle East, you can see this same type of mentality reflected in street mob vigilantism, as entire Christian areas are torched for the supposed offense by a single person against a Muslim or Islam. KGS
UPDATE: Commenter MFS says the action has been postponed due to her being interviewed with the media. No other news available.
UPDATE II: Vlad says that their a reprieve for the perp. It appears allowing a woman to be equal to that of a man is nto to be.
Sharia, just a drop away
Eye for an eye: Woman blinded by scorned lover granted permission to throw acid into his eyes by Iran court
By DENNIS NEWSON
Last updated at 2:46 AM on 14th May 2011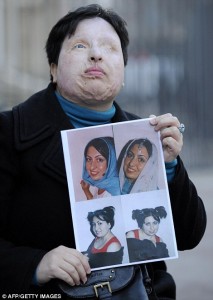 She is determined to exact revenge for bus stop attack despite death threats
His family beg for forgiveness ahead of sentence
A woman who was blinded when a scorned lover threw acid in her eyes has the chance to get a gruesome revenge today.
A court in Iran has given permission for 32 year-old Ameneh Bahrami to get her own back by pouring acid in the eyes of her attacker, a fellow student at Tehran University.
The court's OId Testament ruling – an eye for an eye, a tooth for a tooth – has sparked controversy even in Iran where medieval justice still holds sway. But Ameneh still appears bent on revenge.
[…]
Arrangements have been made for Ameneh to inject the acid into her attacker's eyes as he lies in a Tehran hospital under an aesthetic at midday today. Twenty drops in each eye.
At the last moment Ameneh could still change her mind. But yesterday she said: 'I'm very happy. After six years I'm getting justice. But we are both losers because we have both suffered greatly.'
H/T Gaia