Yusuf al-Qaradawi is the anti-Jew spiritual leader of the Muslim Brotherhood, so it's never a good thing to have this fundamustard visiting, regardless of the pretense. The Norwegians are going to get much more in the way of fundamuslimism than just the solving of prayer times in the nordic region. Those who play with fire are usually the ones who get burnt.
NOTE: And the government of Norway opens arms this anti-Semite.
H/T: David F.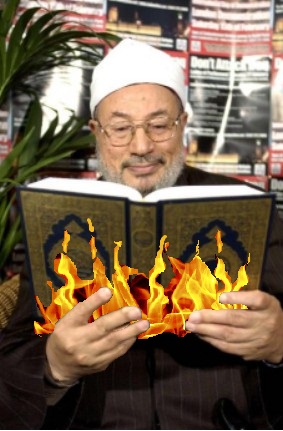 Yusuf  al-Qaradawi: I have this burning desire to see the northern lights
A Month in the Life of Islam in Europe
The controversial Egyptian Islamic scholar Yusuf al-Qaradawi is moving to Norway to help Muslims in the polar regions of the country establish their prayer times. Qaradawi, who has been banned from entering Britain and the United States for his defense of suicide attacks against Jews as "martyrdom in the name of Allah," will work to determine the five daily Muslim prayer times, which are calculated according to the position of the sun.
In the polar regions of Norway and other parts of Scandinavia, the sun shines for twenty-four hours during the summer months and there is permanent darkness during the winter. In recent years, when the Islamic month of Ramadan has coincided with the summer season, Muslims in the northernmost parts of Europe have had to break their fast, eat their pre-dawn meal and pray the evening prayer all within the span of one hour. The Islamic Council of Norway hopes al-Qaradawi can find a solution to this problem in a country where Islam is now the largest minority religion.
Al-Qaradawi's trip to Norway is just one of hundreds of Islam-related news items that made the headlines in Europe last month. A perusal of just a few of these headlines offers insights into how Muslim immigration is transforming the continent, and the different ways in which Europeans are responding to the rise of Islam in their midst.