This is the German woman who slammed the fundamuslims in the square in Frankfurt Germany. KGS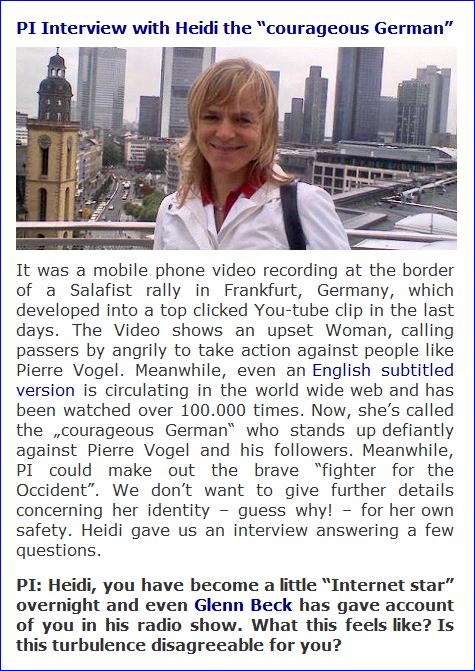 Heidi: In the beginning, it was funny. I asked myself if I had acted the right way. Meanwhile however, I have to laugh about it over and over again. I consider some of the comments on You-tube as "below belt line". A bit more respect can be expected. Respect is also a virtue some could learn again.

Have you been addressed by people after your appearance ever since?

No.

Please , give us a shot account of the Salafist event in Frankfurt. How was it for you and what was moving you to your words?

maybe, I should explain briefly why I was showing up there: When Pierre Vogel showed up with his followers in Frankfurt am Main on Römerberg the last time, I was rather shocked. The protestant church was open and radical Muslims used it as acting base. In my opinion, this could only have happened with the approval of the church leadership there. The atmosphere on Römerberg was back-breaking. Men and women, girls and boy, were standing apart. When I tried to greet male youths with a handshake, as it is common in Germany, they refused it. They consider a woman as dirty and therefore they don't give their hand.

This time, I didn't want to be there at first. A friend from Lebanon pushed me days before already and repeated emphatically: Heidi, we have to do something against it. When I came to the place the atmosphere was tense. Policemen were standing everywhere with bulletproof vests. The event location itself was locked off by crush barriers.

For the first time I was proud of the leftists who had disturbed the event effectively with slogans and banners in favor of Israel. Even if normally I don't support their opinions. My personal motivation was to see and feel what's happening in my city. Whats more, I have prayed. I want Frankfurt to live in peace.

What was leading to the well known scene?

The confrontation shown on the video began, when I tried to explain to Muslim girls, who just had loudly declared: "This is our religion…", how different Jesus ans Mohamed were dealing with a sinner – in other words a woman:

#1 Jesus
Religious people bring a woman caught at adultery and want to stone her. Jesus answers to them: "Whoever of you, who is without sin, he shall throw the first stone." However, the sinner he dismisses with the words: "From now on don't sin again." (The Bible, New Testament)

#2 Mohamed
A similar scene: A woman – again there is no guilty man – is caught a adultery. She has become pregnant in the meantime and is brought in front of Mohamed. He dismisses her until she has given birth to the child. She comes again and he dismisses her until she has weaned the child. Now the child is taken away from her and she is getting stoned.

The way of acting of Jesus and Mohamed in this very similar stories show clearly the basic difference between the two way of believe. This is what i have tried to explain to the girls.
A Muslim man, shown next to me on the pictures, couldn't bear hearing this conversation and interfered aggressively. He was the trigger for my inner fire to break out, I can't explain it otherwise. After this, I didn't care for anything anymore. I just wanted to shout out the truth.