The Tundra Tabloids reported just recently that the Sweden Democrats' Youth League demonstrated down a city street this past week, and were met by hoots, hollers and middle fingers. What they were demonstrating for was an end to the demonization of Swedes, and Swedishness in their own country.
While it might seem ludicrous for most Americans another Westerners living outside Europe to comprehend, showing a pride in one's own ethnicity and state, is automatically taken as a racist act. In Sweden, only immigrant ethnicities are allowed to be celebrated. KGS
UPDATE: Ted Ekeroth who participated in the demonstration mentioned the following to the Tundra Tabloids, quote:
"One immigrant shouted "Fucking Jew, Fucking Jew!" when he saw me and then afterwards keep on chanting "Fucking Nazis" to us. Too bad I didn't get it on video."
H/T: Reinhard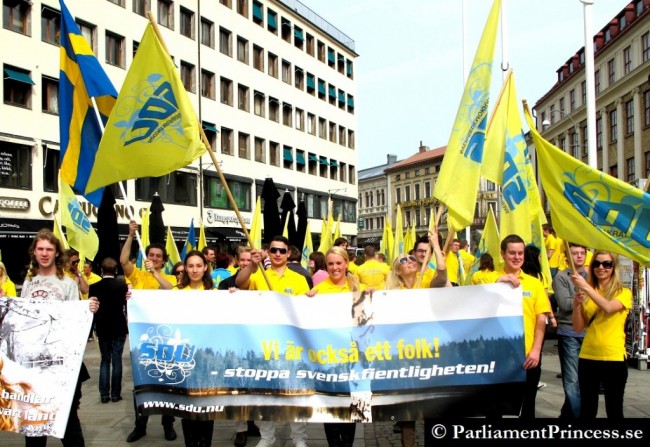 Here are the Swedish Democrats YL marching with a simple sign that says:
We are also a people
Stop hostility towards Swedes.
And the "anti-racists" disagreed!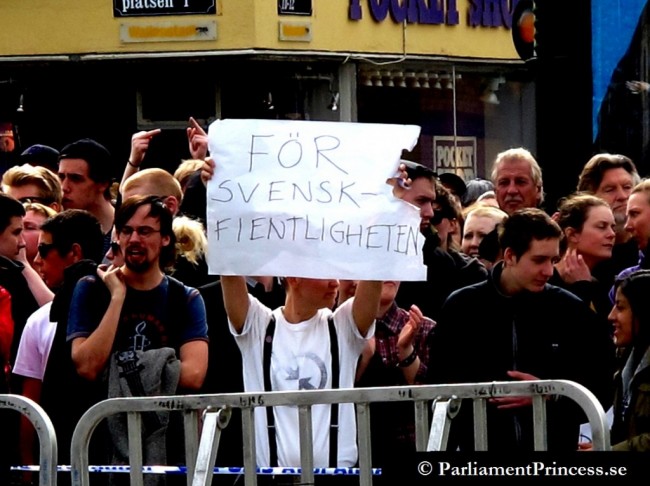 For Hostility Against Swedes
NOTE: Check out the guy on the left wearing the Amnesty International shirt, I wonder if that's AI's official line as well. There are more pictures here.