The bright spot is, according to a poll, the majority of Egyptians, 60%, still want to maintain the peace treaty with Israel. The bad news is 40% do not, and who's to say that that very large number of people won't grow under a Muslim Brotherhood dominated government? KGS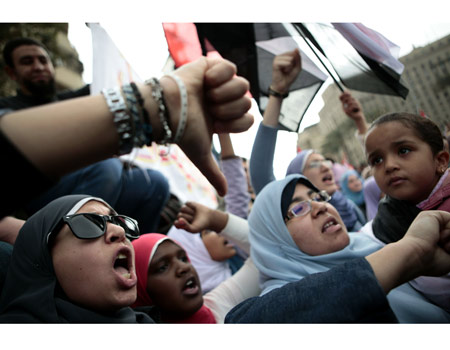 Egyptians march on Israeli embassy
Arab newspaper says protestors burned Israeli flags, handed out fliers calling for third intifada to be held on Nakba Day. Meanwhile protesters amass once again at Tahrir Square, calling to prosecute Mubarak, family
Ynet and AP Latest Update: 04.09.11, 12:22 / Israel News
Egypt's protesters stepped up their challenge to the country's ruling military Friday, as tens of thousands massed demanding it prosecute ousted president Hosni Mubarak and his family for alleged corruption, while a smaller group tested out the army's tolerance with a march on Israel's embassy.
The mass rally in Cairo's central Tahrir Square was the biggest by protesters in weeks.
A smaller group of more than 1,000 marched on the Israeli Embassy, angered by strikes on the Gaza Strip earlier in the day, and pushed for Egypt's new rulers to close the mission and stop Egypt's natural gas exports to Israel.
The protestors demanded cutting all diplomatic and financial ties with Israel and opening the Rafah crossing between Egypt and Gaza.
"Remove the flag, we don't want it here," they shouted referring to the Israeli flag on the top floor of the building. According to a report by the al-Masri al-Youm newspaper the protestors also burned other Israeli flags.
"We shall remain here until our demands are met and only then will we focus on internal affairs again," one protestor said. The report noted that as demonstrators burned Israeli flags passersby expressed their support by honking. Residents in nearby houses stepped out holding Palestinian flags.