Remember, they're supposed to feel themselves subdued as well.
Fight those who believe not in Allah nor the Last Day, nor hold forbidden that which hath been forbidden by Allah and His Messenger, nor acknowledge the religion of Truth, (even if they are) of the People of the Book, until they pay the Jizyah with willing submission, and feel themselves subdued. Qur'an 9:29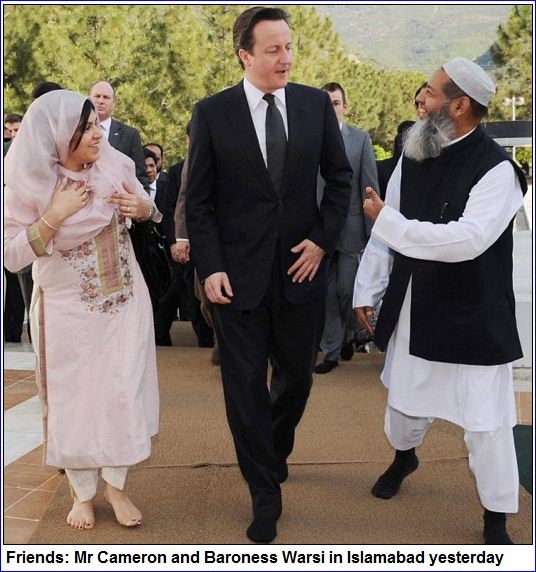 *Thumbs up for Cameron and Warsi
That's a big chunk of change you're handing the Muslims there Cameron, was it the "Baroness" seen bare footing it with you that managed to turn your head or what? Forking over cash (that you don't have) for telling the truth about the fundamuslim Pakistani double crossers is insanity.  KGS
H/T Scottish Infidel
The £650m apology: Forget our ailing education system, that's what Britain's giving to Pakistani schools to make amends for the past
By TIM SHIPMAN
Last updated at 2:04 AM on 6th April 2011
Daily Mail: David Cameron vowed to hand hundreds of millions of pounds of taxpayers' money plus vital military secrets to Pakistan yesterday to make amends for offending the Muslim nation last year.
The Prime Minister pledged to invest £650million in Pakistani schools at a time when the education budget at home is being cut.
Britain is also to give highly sensitive military technology to combat roadside bombs to the Pakistani security services, which are widely blamed for funding and arming the Taliban.
In a huge gamble with the lives of British troops in Afghanistan, Mr Cameron agreed to spend millions more on a centre of excellence for the country's soldiers and spies near Peshawar, a hotbed of militancy.
The gesture came after Mr Cameron sparked a diplomatic rift last year when he accused the country of 'looking both ways' on terrorism.
NOTE: * picture photoshopped for thumbs up