Labeling slaughtered meat Halal or Kosher in a public grocery store is not much to ask, people are able to choose for themselves whether or not to purchase meat slaughtered in the Islamic way (which is well below Jewish law standards) or Kosher meat.
Many people have a problem eating meat sacrificed to a foreign deity, but haven't a problem eating meat dedicated to the Gd of Abraham Isaac and Jacob. So, in the TT's opinion, Jews shouldn't disagree too much, their sales will remained unchanged, while the Mohammedans' takes a nose dive. No Jew would ever slaughter an animal this way. KGS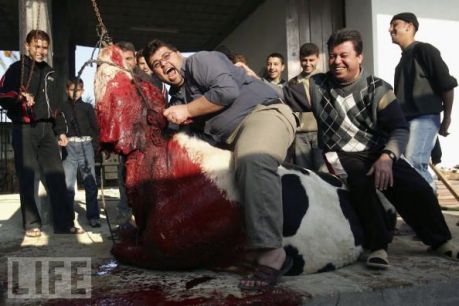 H/T Scottish Infidel
Religious slaughter meat should be labelled, says minister
Meat that has been slaughtered in a religious way should be clearly labelled, according to the Food and Farming minister.
The Telegraph: His comments came as the European Parliament prepared to debate the highly controversial issue, with a late amendment to a food labelling bill being described by a leading Jewish organisation as "the 21st century equivalent of the yellow star, but on our food".
Jim Paice, the food and farming minister, has told the Daily Telegraph that he would like to introduce a labelling system that allows consumers to see whether meat has been stunned or not before it has been slaughtered.
Failure to stun is legal under religious freedom laws. A relatively small, but increasing, proportion of Halal slaughterings and all Shechita – the Jewish method – slit the animals' throats while they are still conscious.
Vets and animal welfare campaigners say that refusal to stun an animal before it its throat is cut leads to "unacceptable levels of suffering and pain".
Mr Paice said: "We think this is a welfare issue not a religious one."