It would have been one thing for them to have discovered the Intifada pages and removed them without a campaign having to been mounted against them first, but that's not what they chose to do. So a billion dollars is being sought, go for it.
Intifada is synonymous with violent uprising, so the Tundra Tabloids does not buy the line that "in the beginning they felt it was calling for peaceful protest". Show the TT one intifada against Israel that began Ghandi-like. Forget about it, they're all violent from the git go, looking for Jew blood to spill. KGS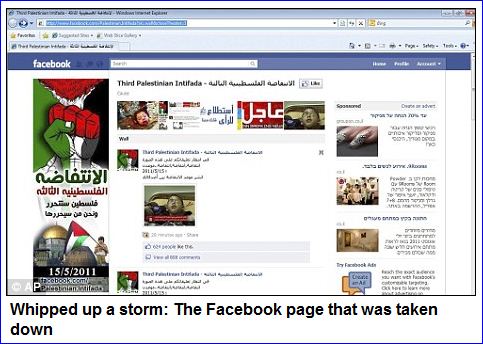 Facebook sued for $1billion over 'Intifada' page calling for violence against Jews
By DAILY MAIL REPORTER
Last updated at 1:07 AM on 3rd April 2011
Facebook and its co-founder Mark Zuckerberg are being sued for more than $1billion over a page that was on the social networking site that called for violence against Jews.
The page, entitled Third Palestinian Intifada, had more than 340,000 'likes' for its proposed May 15 uprising when it was removed earlier in the week.
The suit was filed by American attorney Larry Klayman in the D.C. Superior Court on Thursday.
He is also the founder of the conservative public interest group Judicial Watch.
In the lawsuit Mr Klayman describes himself as "an American citizen of Jewish origin" who is "active in all matters concerning the security of Israel and its people."
He alleges that Facebook did not take down the page that called for a intifada quick enough, keeping it up in order to 'further their revenues and the net worth of the company.'
The page was removed by the company on March 29, several days after various people complained, including Israeli Public Diplomacy minister Yuli Edelstein and the Anti-Defamation League.
A Facebook spokesman said that the claims were 'without merit,' adding that 'we will fight it vigorously.'