The farce continues. KGS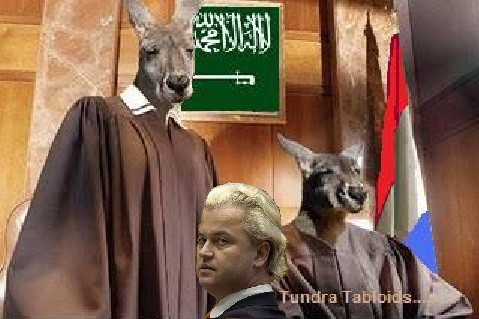 The court case against anti-Islam campaigner and MP Geert Wilders will go ahead as planned, the three judges hearing the case said on Wednesday. Wilders' legal team had tried to have the case dropped on a number of legal grounds. But while agreeing the case, based on charges of inciting hatred and discrimination will continue, Wilders should not be charged with comparing Islam to fascism, the judges said.
Wilders Trial to Continue as Court Rejects Defence Objections
THE HAGUE, 31/03/11 – The criminal case against MP Geert Wilders is going ahead as planned. The district court in Amsterdam yesterday rejected virtually all the technical objections put forward by Wilders' lawyer Bram Moszkowicz. On one point, however, he got his way.
The lawyer had wanted the Public Prosecutor's Office (OM) to be declared inadmissible, which would have meant the end of the court case. But the court ruled that the OM had the right to prosecute Wilders for incitement to hatred and discrimination and defamation of certain groups including Moroccans. The OM cannot however prosecute Wilders for comparisons that he has made between Islam and Fascism, according to the court.
Another district court previously ruled that the OM must prosecute the MP – the OM itself did not want to do this because it did not consider he had broken the law at any point whatever. This verdict however gave no scope for including a particular statement by Wilders in the charges. This was the sentence: "I have had enough of the Koran in the Netherlands: Ban that Fascist book."
MPs enjoy no immunity from prosecution for statements they make outside parliament. Moszkowicz considered they do. He also argued without any result that the court case, if it was then tried after all, should been tried in The Hague instead of Amsterdam.