This is another reason for Finns to vote for the True Finns Party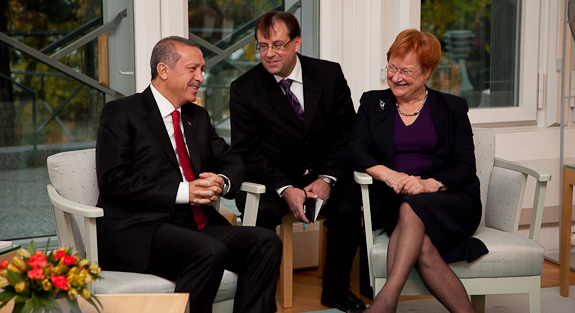 RELATED: Three reasons for the rise of the True Finns
YLE, Finland strongly supports Turkey's EU membership
Helsingin Sanomat: The state visit to Turkey by President Tarja Halonen said Finland strongly supports Turkey's EU membership, says Yle. According to Halonen, however, what is more important than the timetable is "what kind of marriage, namely the relationship between Turkey and the EU there will be".
During the official visit to Turkey, President Halonen will meet with President Abdullah Gül. In addition to prospects for the talks on bilateral relations and Turkey's EU membership negotiations, they will focus in the Middle East and North Africa region, ongoing change and sustainable development.
NOTE:A comment to the article (translated) : "What the hell. What's with Finland? I don't support Turkey's membership. We don't need 70 million worshipers of the Beast of Darkness here. All the election candidates should express their position On this Turkey question.
H/T: TH