They're firing grad rockets for crying out loud, discriminately, across the border and in the direction of Israeli civilian centers. That they haven't managed to kill anyone owes more to their skill and happen chance than to anything else. These people are war criminals, yet Europe pours EU tax money into their coffers. Sick. KGS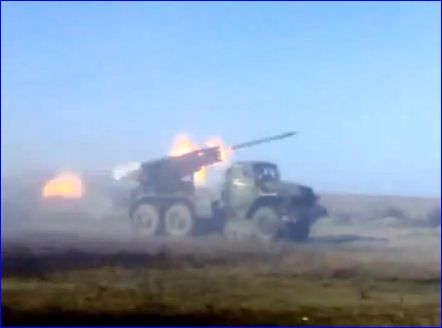 (Archive photo of grad rocket launch)
Barak: Israel will not tolerate firing against its citizens
By JPOST.COM STAFF AND REUTERS
03/24/2011 17:18
12 rockets fired deep into Israel, no casualties reported; schools to remain closed in Ashdod, Kiryat Gat amid threat; Aharonovitch: We must stop war of attrition; Islamic Jihad warns against "continued aggression."
Defense Minister Ehud Barak said Thursday that Israel will not tolerate firing against its citizens. Speaking at a joint press conference with US Defense Secretary Robert Gates in Tel Aviv, Barak said that the IDF knows what it needs to do and will work to make sure that there is not an escalation.
"Hamas is the only one that is responsible for these attacks," the defense minister said.
At the same time that Barak was speaking, a rocket fired from Gaza landed in Sderot. No injuries were reported and no damage was caused.