Christians are being hunted almost every where their churches brush up against a Muslim community. This has got to end, there has to be an international campaign mounted in their defense. Where has the Finnish media, human rights groups ever drawn attention to the plight of these people? There is nothing but silence from them. KGS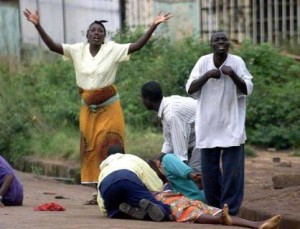 (archive photo)
Five feared dead in fresh Jos violence
By Onoja Audu, Reporter, Jos
Five more people died on Monday in a free-for-all between Farin-Gada residents and Hausa-Fulani settlers in the Tomato Market area in Jos, a day after bomb explosions around churches killed four.
The latest clash was ignited by the death of a Christian boy on Sunday night when his family member raised an alarm that generated tension in the segregated neighbourhoods.
Troops from the Special Task Force (STF) were deployed in the scene to keep the peace.
However, by noon on Monday, business activities were still paralysed as the residents remained indoors.
Policemen fired gunshots into the air at the city centre to ward off trouble makers.
On Sunday, Plateau State House of Assembly Speaker, Istifanus Mwansat, and other worshippers at the Church of Christ in Nigeria (COCIN) narrowly escaped death when bombs on the church premises killed four people, two of them suspected planters of the explosives.
Another bomb exploded at the Evangelical Church of West Africa (ECWA).
A bomb brought to the regional headquarters of the Mountain of Fire and Miracles Ministries (MFM) by a man was spotted by church security guards who accosted him.
The man escaped after dropping the bomb kept in a plastic bag.
At the COCIN, worshippers were held hostage during the thanksgiving service held in honour of H. Miri, a Reverend who was recently transferred to an academy of the church.
A loud explosion was heard at about 9:45 a.m. when the Pastor, simply identified as Alex, was delivering the sermon. The congregation scampered for safety, and women and children started crying.
The explosion was accompanied by tear gas.
Attempts by the congregation to get out of the premises were thwarted by Muslim youths throwing stones.
They kept throwing stones into the church premises, smashing windscreens and vehicles, until STF Commander, Brig. General Hassan Umaru, arrived and gave order for the use of minimum force on the attackers.
H/T; TROP