At the time hearing about the training of Palestinian Authority personnel, the Tundra Tabloids warned then about how the US is training men who will one day use their expertise against the Israelis. Both Republicans and Democrats have underwritten such schemes, so they're both to blame. KGS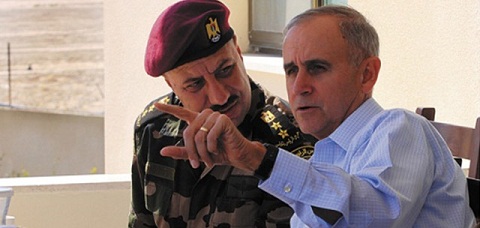 Brigadier General Munir al-Zoubi, commander of the Palestinian Presidential Guard and Lieutenant General Keith Dayton (right), the US security coordinator for Israel and the "Palestinian Authority" at a training facility in Jericho, West Bank, February 26, 2009. Pic Credit: New York Times
Diana West writing at Big Peace:
WND.com's Aaron Klein reports:

JERUSALEM – Two members of Palestinian Authority President Mahmoud Abbas' official security forces were arrested in conjunction with this past weekend's bloody massacre in which five family members were brutally stabbed to death inside their home in the Jewish village of Itamar, WND has learned.

The names of the apprehended suspects will be released to the Israeli media within hours but were revealed to WND by security officials working on the murder.

Two cousins are now in Israeli custody and are suspected in the slayings. Ahmed Awad is an officer in Abbas' Preventative Security Services in the northern West Bank city of Nablis. Iyad Awad is an officer in Abbas' General Intelligence services in Ramallah.

Both the Preventative and General Intelligence services of Fatah are armed, trained and funded by the U.S.

The duo did not personally carry out the murders, but rather they assisting in the planning and logistics, informed security sources told WND.

Since the late 1990s, the U.S. has run training bases for PA militias. The U.S. also has provided hundreds of millions of dollars in financial aid and weapons to build up the PA militias.

Since 2007, the U.S. has stepped up its efforts at training the PA, including a new, advanced program for Palestinian police to train 500 to 600 cadets at a time at the American bases.
West:
Disgrace: American-Trained Forces Arrested for Israeli Family Massacre
"Enough to make you sick all — again. Rings a bell, though, doesn' it?  Wasn't training PA forces a pet project of Bush-special envoy-turned-Obama-ex-national-security-adviser Gen. Jim Jones? He who thought Israeli concerns about security were the problem? (And opposed US laws prohibiting US companies from joining the Arab boycott of Israel?)
Meanwhile, the Itamar family massacre wasn't the first time US-trained Palestinian terrorists killed."