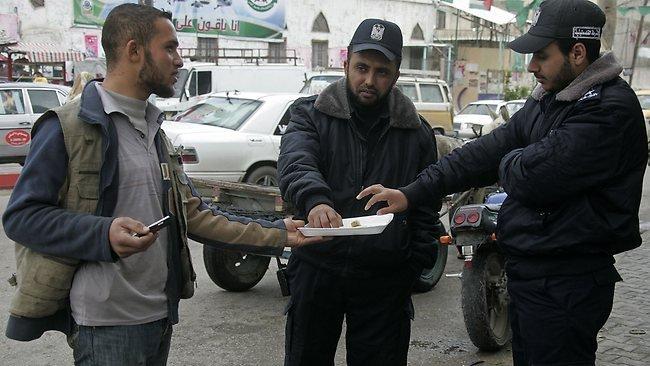 [A Palestinian man offers sweets to Hamas policemen in the streets of the southern Gaza Strip town of Rafah to celebrate an attack which killed five Israeli settlers at the Itamar settlement near the West Bank city of Nablus]
The following comment was sent to the Tundra Tabloids from a Jew living in the same area of Judea, as the family that was brutally butchered yesterday by a Palestinian terrorist. He shares his thoughts on how Jews like himself have been delegitimized, dehumanized and demonized by the international community (and the TT adds, the media, politicians, various "human rights" groups and miserable pseudo scholars like Illan Pappe and Avi Shlaim to name a few) and it needs to be stopped. KGS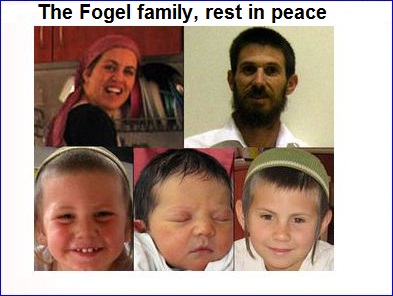 UPDATE: Carl in J'lem will be live blogging the Fogel Family's funeral
Carl: UPDATE 1:54 PM The funeral is starting now. I believe that I heard them say that all three surviving children are there. You can hear the crying over the radio. Horrible….
UPDATE 2:13 PM I think they just said 30,000 people are there. Knesset Speaker Ruby Rivlin: How did a house of self-sacrifice become a slaughterhouse?
UPDATE 2:19: Moshe "Boogie" Yaalon: The Arab children are raised on a lie that we have no right to Israel and so they murder us and the 'Palestinian Authority' pays them a salary when they are caught and jailed. Against the education for love of the land and the Torah, our neighbors educate to murder a four-month old child. Any agreement we sign will not be worth the paper on which it is written and it will be violated to allow the murder of Jews.
(That nails it for the TT)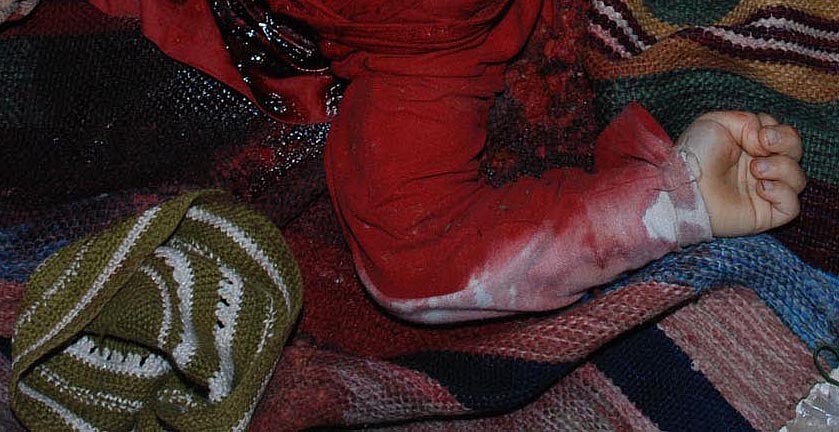 When I saw my daughter (who was in Hebron at the time Shalhevet Pass was murdered) crying last night when we watched Mabat, I decided I have had enough. Enough of the barbaric 'humans' who slaughter a four month old baby, but also enough of the relentless campaign that caused the death of three Jewish children and their parents. I am not only talking here about the incitement in Palestinian society but about the national and international demonization campaign against Jews like me. Those living in Yehuda, Shomron or East Jerusalem.
"Settlers" are being treated only in one way; we are less than human beings. Our villages our branded" illegal" and in the end we ourselves have become "illegal beings".
Last year during the launch of the Missing Peace project in Amsterdam the first question asked by a Ha'aretz journalist was how an information desk run by a director living in the West Bank could be reliable.
Get it? By living in the West Bank one is automatically an unreliable outcast. Do not think this is only the opinion of a leftist Israeli journalist, I know of European officials who think the same.
Now yesterday we saw government officials as usual calling for international condemnation of this barbaric act.
But last week we saw that the same government contributed to this campaign by using plastic bullets against Jews for the first time , during the evacuation of an outpost.
The demonization campaign against Jews living across the green line has to be stopped, because it has spilled over to Israel as a whole.
NOTE: The Tundra Tabloids filmed the Israeli Ambassador to Finland and Estonia, Avi Granot, capturing the exact same sentiments concerning an Avi Shlaim speech, given in Helsinki Finland, in which the pseudo scholar spent an entire 30 some odd minutes delegitimizing Israel.