His relatives are shocked! KGS
'This is my favourite killer outfit': Face of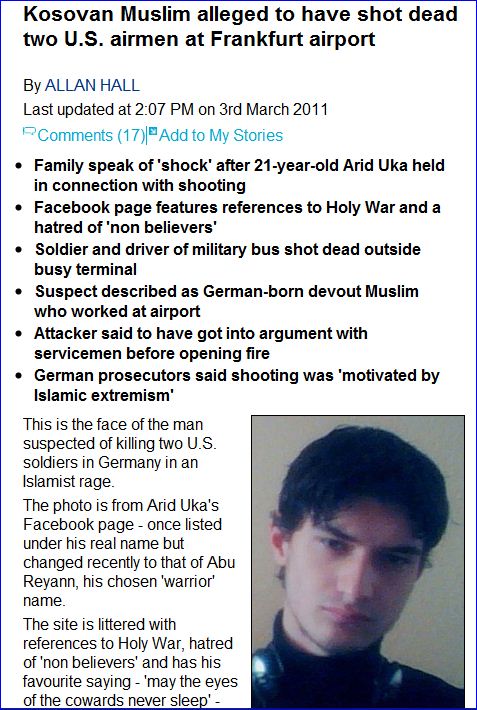 by Khalid Bin Walid, an ancient Islamic fighter who united Arabia for the first time.

'This is my favourite killer outfit when rolling the dice on black ops,ha ha,' he boasts to his friends on the social networking site – probably more a reference to the computer game of the same name that he played avidly than any attack like that he carried out in Frankfurt which left two Americans dead and two severely wounded.

'Way to go, you old killer!' posts friend Kastrijot Ferizi on the photo that was added to his page in December last year. Another writes that Abu Reyyan was his nickname that he knew him by.

There are hate-filled rants against Jews and a cry to Jihad which said: 'If someone would call you to Holy War… yeah, and?

'That is part of this beautiful religion. One is allowed to fight the unbelievers when attacked.'
[…]
Uka, whose family come from the northern town of Mitrovica, was born and educated in Germany where his family moved to some 40 years ago.

Rexhep Uka said the suspect's grandfather was a religious leader at a mosque in a village near Mitrovica.

A cousin, Behxhet Uka, said he spoke to the suspect's father, Murat Uka, several times by telephone from Frankfurt after the family was contacted by Kosovo police.