Mohamed and the Hidden Imam hardest hit by the news….
Mohamed and H.I: Here's one for the road
H/T: Scottish Infidel
Former Blackburn pub to be converted to Islamic centre
3:39pm Monday 21st February 2011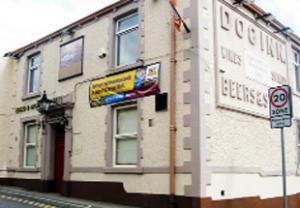 The Citizen: PLANS to convert a former pub to an Islamic education centre have been approved – to the dismay of some neighbours.
The former Dog Inn, on the corner of Revidge Road and Lynwood Road, Blackburn, will now become an 'education and cultural centre' and madrassa.
Some residents opposed the plans, and police were reported to have 'serious concerns' about road safety.
Opponents submitted a 52-signature petition to Blackburn with Darwen Council planning committee to make their case, claiming parking would be a problem, and parents dropping off youngsters by car would create a dangerous level of traffic.
Planning chiefs said it was impossible to know how heavy the traffic would be until the centre was in use, so granted a 12-month temporary permission.
UPDATE: An EDL Buck informs the TT that :
"Ere KGS, you know that Irish pub now islamic center I told you about the other day> At lunchtime, uk time, I got a call from a friend who was waiting for a bus outside it. IT GOT RAIDED BY THE COPS! RESULT! jammat islamia has No place in England. Whats the betting this don't make the news?"
Thanks, it made the news here mate! KGS