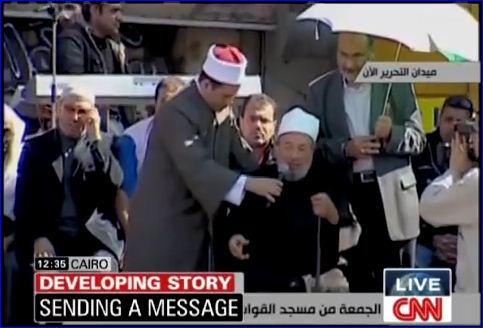 H/T: FRANK KITMAN
During massive demonstrations at Cairo's Al-Tahrir Square, where crowds were estimated at one million, Friday prayers were led by International Union of Muslim Scholars head Sheikh Yousef Al-Qaradhawi.
Al-Qaradhawi was leading prayers in Egypt for the first time in many years.
In his sermon, he expressed his esteem for Egypt's young people for their accomplishments in the revolution against "the tyrannical pharaoh" Hosni Mubarak, and said that the revolution belonged to all Egyptians, both Muslim and Christian.
Al-Qaradhawi called on the young people to contribute to the building of the country, to preserve their unity, and to prevent the revolution from being snatched from their hands. He praised the army's announcement of support for democracy and elections and for the establishment of a committee for changing the constitution.
He asked the army to disband the new government and to free the political prisoners, and promised that the Egyptian military would not be less patriotic than the Tunisian military.
Addressing the Arab leaders, he called for them to listen to the will of the people, because no one can change the wheels of history.
In a special mention of the Palestinian issue, Al-Qaradhawi asked the Egyptian army to open wide the Rafah crossing and to pray for the re-conquest of Jerusalem by the Muslims, so that he and the Muslims could pray in security at Al-Aqsa Mosque. This part of his sermon was cheered and applauded by the crowd.
Source: Al-Jazeera TV, Qatar, February 18, 2011