When "The Stache" speaketh, it's wise to listen.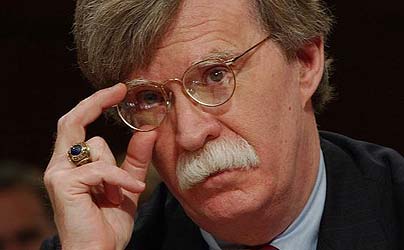 John Bolton: Egyptian Democracy May be Bad News
A 2006 file photo of former U.S. Ambassador to the United Nations John Bolton (Credit: AP Photo/Bebeto Matthews) WASHINGTON – Former U.S. ambassador John Bolton said in a speech at the Conservative Political Action Conference Saturday that Americans should be wary of the fall of Egyptian President Hosni Mubarak, arguing that it could lead to the country falling in the hands of anti-American Muslim extremists.
It is the "responsibility of our government to protect our interests and our values and our friends and our allies," Bolton said. Referencing former President Theodore Roosevelt, he adding that "first and foremost we must make the world safe for ourselves."
Mubarak's fall may end up making America less safe, Bolton said, because in a democracy a radical group like the Muslim Brotherhood may end up in power. He warned of the threat of "rising radicalism in the Middle East" and said Sharia law could soon be imposed on Egypt's citizenry.
"We have to have a careful and prudent approach to these developments, because we've seen revolutionary situations go wrong too many times before," said Bolton, pointing to the Nazis, Hamas and Hezbollah.