The Finnish TV program, Huomenta Suomi, Good Morning Finland, on MTV3 today, hosted the UKIP party spokesman, Nigel Farage. He's certainly not a stranger to readers of the Tundra Tabloids, but to the host of the morning show, they couldn't quit get what to make of him. Click here to view the video.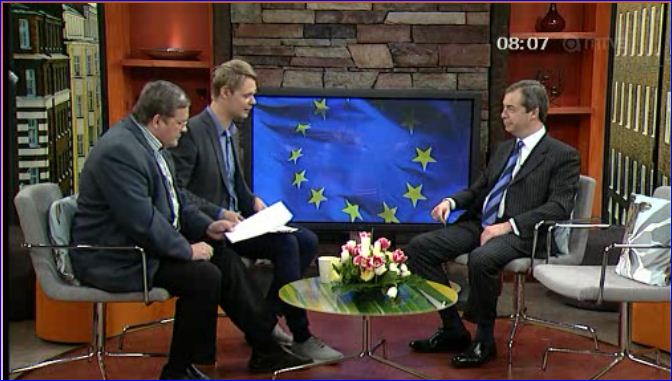 The guy sitting on the left closest to the screen couldn't wait till the second question to ask Farage to "name three positive things about the European Union". What a joke, is the guy serious about living within a true representative democracy or not? I would imagine he knows absolutely nothing of democracy, the history behind it and what we have in place now.
Both have heard  a handful of Finnish politicians speaking negatively about EU policies, but never about the undemocratic characteristics of the EU itself. This is new territory for these two, with them both seen smirking somewhat like a couple of village idiots to excellently posed responses and points raised by Farage.
I'll add more from the interview once I get time later today. KGS
UPDATE: