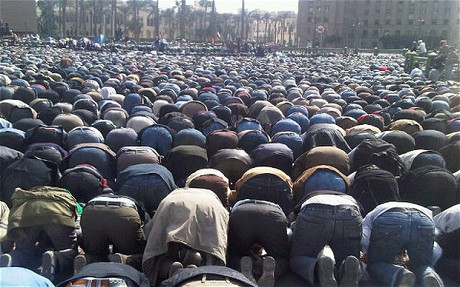 The Tundra Tabloids and Vlad Tepes offers these poor Egyptian rock throwers for democracy some needed relief. KGS
Huge crowds turn out for Mubarak 'departure day'
CAIRO, Feb 04, 2011 (AFP) – Egyptian protesters massed Friday for sweeping "departure day" demonstrations to force President Hosni Mubarak to quit after he said he would like to step down but fears chaos would result.
Tens of thousands filled Cairo's central Tahrir Square, the epicentre of the 11 straight days of protests that have shaken the pillars of Mubarak's three-decade rule, on the Muslim day of rest.
At one end of the square the faithful prayed out in the open, beneath two traffic lights from each of which hung an effigy of Mubarak.
"We were born free and we shall live free," prayer leader Khaled al-Marakbi said in his sermon. "I ask of you patience until victory."