The Tundra Tabloids has stated earlier that it has serious doubts of Mohamed Elbaradei's ascension to the top spot of the Egyptian presidency, this report serves to underline that doubt. KGS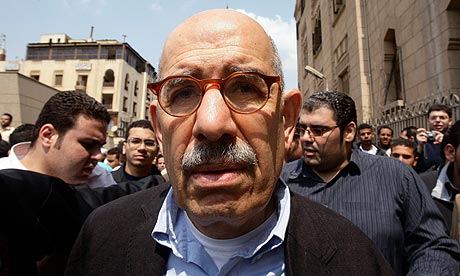 ElBaradei's Role Cast in Doubt
By CHARLES LEVINSON
[…] Mr. ElBaradei's appearance Sunday night in Cairo's central Tahrir Square disappointed many activists, who felt he had failed to seize the moment to rally the crowd. Many protesters said they didn't notice he was there or know that he had spoken. He hasn't shown up to the square since, including for Tuesday's "march of millions," which drew hundreds of thousands of Egyptians to demand Mr. Mubarak's ouster.
"The protestors out here in the square are strong and inspiring, and when ElBaradei came he seemed kind of weak next to them, not like someone who would make me follow them," said Heba Sultan, a young democracy activist in Tahrir Square.
Mr. ElBaradei also hasn't attended meetings of the shadow legislature's steering committee—of which he is a member—so far this week, following his return to Cairo from abroad as demonstrations were already gaining speed. A spokesman for Mr. ElBaradei said he lives too far away from central Cairo and has been tired out by the last few days of demonstrations.