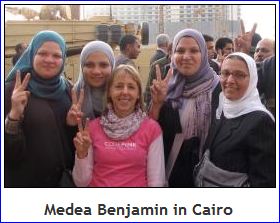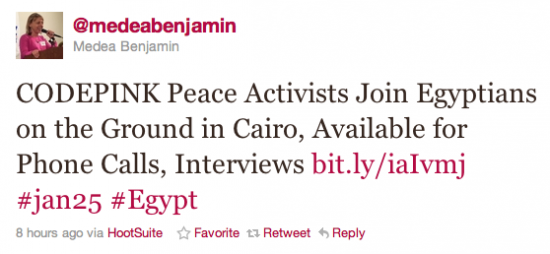 (Tweet pic. courtesy of Weasel Zippers)
H/T: Elliot G. who tells the TT: Look at how Medea modestly tells the world that We Are Ready for Interviews. Just what, however, could she or her girlfriends contribute to our knowledge of the situation. She doesn't know Arabic or any history of anywhere in the Middle East and their great effort is a solidarity demo at the US embassy in Cairo. By the way, maybe she thinks that she's the heroine of ancient Greek mythology.
CODE PINK IN ACTION
Code Pink co-founder Medea Benjamin Wednesday headed up a dozen Code Pink banner-bearing activists in Cairo's Tahrir Square — a scene she said descended into a bloody "war zone" as "government thugs" battled pro-democracy demonstrators.
But Benjamin told us by cell phone just minutes also that while the government of Egyptian leader Hosni Mubarak government has now signalled it will "go down kicking and screaming," pro-democracy protesters are fully determined and "ready to die here."
We caught Benjamin just after midnight Egyptian time as she retreated from the embattled square in Cairo — in a country where Internet coverage is just returning after days of blackout. Benjamin, a longtime Bay Area progessive activist, has been in the region since Monday with Code Pink and said the lack of Internet connection has been frustrating.
But she noted it couldn't stop her and the Code Pinkers who took to the square Wednesday, parading a large banner in both Engligh and Arabic, reading: "The World Says It's Time For Mubarak to Go."