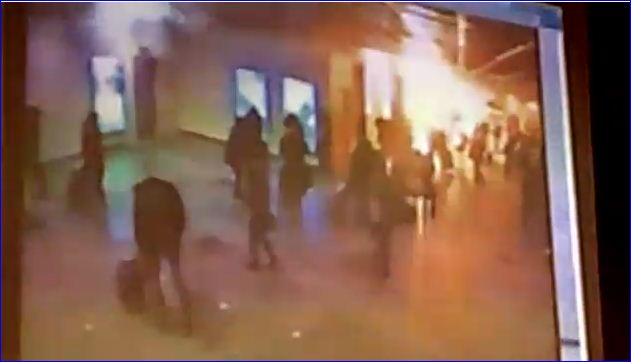 'I will kill you all': Terrifying scream of Moscow terrorist before he blew 35 – including one Brit – to pieces
'It was a terror attack,' confirms President Medvedev

Two foreigners among the injured according to Russian agency Interfax

Suspected suicide bomber was an 'Arab-looking man, aged 30-35' – Interfax

Italian and French nationals among casualities

British Airways flight destined for Moscow turned around


Officials searching for three male suspects
A Briton was among at least 35 people killed in a suicide bomb attack on Russia's busiest airport yesterday. Gordon Campbell Cousland died after a terrorist stormed into the intentional arrivals hall at Moscow's Domodedovo Airport and detonated his explosives.
Witnesses described hearing the bomber scream 'I will kill you all' beforehand.

Footage filmed by bystanders showed smoke and flames engulfing Russia's premier airport. Survivors used baggage trolleys to carry the dead and wounded from the smoke-clogged terminal.

One said: 'It was bloody carnage in there, a scene from hell. Human beings were just blown apart.'
The 15lb device was packed with shrapnel to inflict maximum damage.

Two planes from Heathrow, carrying hundreds of passengers, landed at the airport only minutes before the terror attack.
The male bomber detonated the explosion at 4.32pm local time (1.32pm GMT), 46 minutes after the arrival of the British Airways flight from Heathrow, with 165 passengers on board.

A British Midland flight from London, with 97 passengers, arrived just a few minutes before the blast. A later BA flight was forced to turn around in mid-air and return to London.

Witness Artyom Zhilenkov said the bomber 'exploded right in front of my eyes'. He said: 'A man in a black coat, black hat … he walked out of the check-out zone and exploded to pieces.

'I only survived because I stood between the columns with many people waiting in front of me. Perhaps the bomb was in his luggage.'