It's something that should be talked about out loud ages ago, good to hear it now though. KGS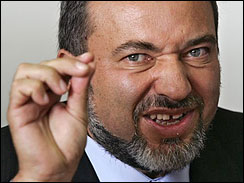 Israeli FM Leiberman: Keep it up and Israel will respond in kind.
PM: Israel will work to disconnect Gaza from power grid
By JPOST.COM STAFF
01/20/2011 21:20
Lieberman slams PA in talks with French FM; Dennis Ross and David Hale here for talks on Israeli security needs.
The Palestinian Authority's insistence on confronting Israel in international forums at every opportunity cannot go on forever, and will lead to a breakdown in ties between Israel and the PA, Foreign Minister Avigdor Lieberman said in a meeting Thursday with new French Foreign Minister Michele Alliot- Marie. He told his French counterpart that there was a "dangerous gap" in relations between Israel and the PA.
"While Israel last week approved 5,300 additional jobs for Palestinians inside Israel, the PA presented a resolution to the UN Security Council condemning Israel for all possible sins," Lieberman said. "This gap cannot remain forever and will lead to a breakdown of ties between the sides."
Lieberman said Israel would not sit back and perpetually absorb Palestinian "criticism and insults." He said the Foreign Ministry is preparing a report charting what Israel and the PA have and have not done to move the diplomatic process forward since the beginning of Prime Minister Binyamin Netanyahu's government in March 2009.
Lieberman said that on the Israeli side of the ledger there was Netanyahu's Bar-Ilan speech adopting the two-state program, the removal of roadblocks, a 10-month settlement freeze, and providing the Palestinians with a frequency for a cellular phone network. The Palestinians, on the other hand, have brought Israel to the UN Human Rights Council and the International Court in The Hague, condemned Israel at the UN Security Council, and named streets and squares in Palestinian cities after terrorists."Israel can't allow this situation to continue," he said.
Lieberman also highlighted the hypocrisy of the Arab League, which he said worked "with great energy to condemn Israel," but did not show the same energy in dealing "with issues no less important than peace in the Middle East, such as the situation in Tunisia, Lebanon, Iraq and other places."
[…]
Netanyahu told Alliot-Marie, who is scheduled to visit Gaza on Friday, that Israel would work toward "disengaging" from Gaza's infrastructure, starting with removing the area from Israel's water and electricity grids.
This plan was first brought up by Lieberman in the summer, with the idea being that the EU would be asked to help build a power plant, water desalination plant and sewage treatment plant in Gaza to make it self sufficient.
One of the rationales behind the plan was that it would help Gaza's economy without necessarily strengthening Hamas.