No actual video of the pious Muslim, draw your own conclusions. KGS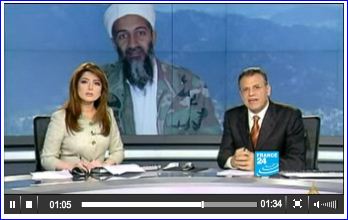 NOTE: The vid is found in the url link to the article.
Bin Laden says France will pay a 'high price' for its policies in Afghanistan
France 24: In a purported audio tape aired on Al Jazeera television on Friday, al Qaeda chief Osama bin Laden warned French President Nicolas Sarkozy that his refusal to withdraw troops from Afghanistan was a "green light" to kill French hostages.
In a message specifically targeting France, al Qaeda chief Osama Bin Laden warned that Paris would pay a "high price" for its policies and that the fate of French hostages would depend on the pullout of French troops from "Muslim lands", in a purported audiotape broadcast on Arabic news network Al Jazeera on Friday.
TERRORISM
Bin Laden targets France, blasts burqa ban and Afghan war
"We repeat the same message to you: The release of your prisoners in the hands of our brothers is linked to the withdrawal of your soldiers from our country," bin Laden said. "The refusal of your president [Nicolas Sarkozy] to withdraw from Afghanistan is the result of his obedience of America and this refusal is a green light to kill your prisoners," he added.