See how the state media spin the story, that immigration actually brings money into areas? The 200 000 Euros mentioned, was it created wealth or extracted wealth from the taxpayer living elsewhere? Whether in Helsinki or elsewhere in the EU, nonetheless, the money was taken from someone's pocket to pay for this upkeep of others. Regardless of what the socialists want you to believe, the money to fund all this does not drop from the sky.
Listen, in the land of reality, there's no such thing as a free lunch, or free health care, or free this or free that, the funding for any entitlement program all comes from someone else's pocket, you, your pocket, any notion otherwise is pure fantasy. That they hype this crap as a great opportunity for the locals is an absurdity beyond comprehension. KGS
NOTE: See how the statist treats the people with contempt, showering chump change upon the people to get them to skip rope while they plunder their bank accounts? Stunning that people actually put up with it.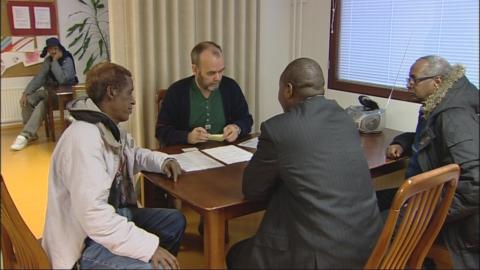 Immigrants Flocking to North Karelia
YLE: The spontaneous flow of immigrants moving to the small town of Lieksa in North Karelia is causing some disharmony among local residents. According to the town council, Lieksa has benefited around 200,000 euros from its new immigrant population. But local critics say immigrants are taking away jobs and housing from residents.
Lieksa has already received 130 immigrants in just over a year. This has meant the town has been able to hire two formally unemployed local residents to work in its immigrant advice centre.
[TT: So what, more public sector jobs that produce absolutely nothing]
Most of the new arrivals are refugees from Iraq and Somalia – all of whom have made a personal choice to start a new life in Lieksa. Despite the town being one of the most picturesque in the area, one of its main attractions for immigrants has been rental accommodation. For letting agents, who only two years ago had more than 100 empty apartments, immigrants have been a real saviour.
[TT: Wrong. The taxpayer has been the real saviour]
Many local people think it does not matter where the town gets its income. But some of the town's 13 000 residents do not agree. As an example, the town council has received a new initiative where local people demand immigrant expenses to be made public. This, they say, is so that taxpayers know where their money is going.
According to the social services in the town, Lieksa paid some 1.5 million euros in expenses for its immigrants last year. However, as the state will pay these expenses for the first three years, Lieksa has already made a 200,000-euro profit from welcoming immigrants so far. The town expects to make a similar profit this year.
NOTE: A more true statement would be, However, as the state will pay these expenses for the first three years,. Lieksa has already made a 200 000 euro profit at the expense of Finnish taxpayers living elsewhere.