This has everything to do with jihad, excitement in the mosque, reading of the Koran and searing its hateful message into the brain. There is a concerted effort by the Egyptian police to persecute Christians in Egypt, mostly by turning a blind eye to outside attacks, but this time it spilled into cold blooded, premeditated murder by one of its own screaming allahu akbar. No mistaking it now, it's an act of jihad carried out by a representative of the Egyptian state. KGS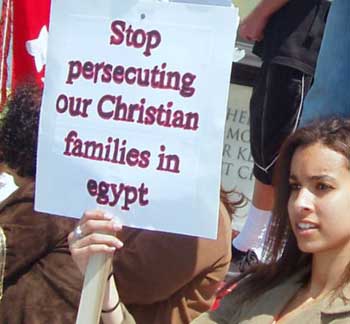 Policeman kills Christian on Egypt train
By Mona Salem (AFP) – 12 hours ago
CAIRO — A policeman shot dead a Christian on a train in Egypt Tuesday and wounded five other people, including the man's wife, as tensions remain high after a New Year's church bombing killed 21 people, the interior ministry said.
The shooter's motives were not immediately clear, but the ministry said at least four of the five people hurt were Coptic Christians.
And a Coptic bishop told AFP that the gunman, named by the ministry as Amer Ashur Abdel Zaher, had sought out Christians on board the train and shouted a Muslim slogan — Allahu Akbar (God is greatest) — as he opened fire.
The policeman, who was said to be on his way to work, boarded a stationary Cairo-bound train at Samalut, in the southern Minya province, and began shooting with his service weapon, the ministry said.
He killed Fathi Said Ebeid, aged 71, and wounded his 61-year-old wife. Two of the others wounded were said to be in critical condition.
The policeman, who was not in uniform, got off the train after the attack and tried to flee but was arrested inside the station.
He was being questioned by the authorities to find out if he carried out the attack for religious reasons.
Bishop Morcos, who serves with the Coptic church in Samalut, said he had spoken to witnesses after the shooting.
"This lunatic went up and down the coach looking for Christians," the bishop recounted what he was told.
"Seeing a group of girls and women who were not wearing the (Islamic) veil, he took them for Christians and fired, shouting Allahu Akbar."
Later, witnesses said hundreds of Copts rallied outside Salamut's Good Shepherd hospital, where the wounded had been taken, and clashed with police, who fired tear gas at them.