Gabrielle Giffords' mother was not Jewish, she's Christian, but that will not matter one bit for the anti-Semites, if this story line holds true. This looks more and more like a story coming that would delight the highly incompetent Dept. of Homeland Security.  KGS
UPDATE: A little perspective in order here: Journalists urged caution after Ft. Hood, now race to blame Palin after Arizona shootings
Gabrielle Giffords was shot because she is Jewish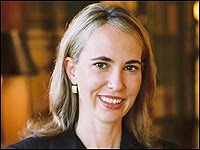 Congresswoman Gabrielle Giffords (D-Az) wasn't shot because she was pro or anti-immigration. She wasn't shot because she voted against Nancy Pelosi for Speaker of the House. She wasn't shot because Sarah Palin targeted her seat in last fall's elections. And she wasn't shot because she voted for Obamacare. Gabrielle Giffords was shot because of a much more baseless hatred. Gabrielle Giffords was shot because she is a Jew.
This is an internal memo obtained by Fox News put out by DHS compiling facts known so far about the case – new – shooter's mother worked for Pima board of supervisers and the suspected anti-Semitic motivation of the shooter.
MEMO:
"The investigation has been taken over by the FBI, and is being run through the Tucson Command Post. Here's what can be confirmed at this time (1800 hrs)… * Gabrielle Giffords Is in ICU.* Federal judge John Roll is deceased. He did rule on a 32 million dollar civil rights lawsuit in February, 2010. That ruling brought death threats to Roll and his family, and for a time he was given a protection detail.* 6 deaths attributed to the shooting. 19 total people hit by gunfire.* suspect's mother works for the Pima County Board of Supervisors* the suspect has multiple arrests … But no criminal record? Intervention by someone?* no direct connection – but strong suspicion is being directed at AmRen / American Renaissance. Suspect is possibly linked to this group. (through videos posted on his myspace and YouTube account.). The group's ideology is anti government, anti immigration, anti ZOG (Zionist Occupational Government), anti Semitic. Gabrielle Gifford is the first Jewish female elected to such a high position in the US government.
NOTE: This guy was not related to the Tea Party in any shape or form, it's just one more avenue that is needed to be explored. The TT highly doubts that any true conservative organization would have him as a member. A highly racist, national socialist organization like AMNER would of course fit this highly certifiable nut like a glove.