Israel has no desire to have a lengthy row with the Turks, but if they do not stand up to them now, they will be met with even more outrages in the future. The present government is doing an excellent job in maintaining pressure on the Turks, for they indeed were the ones who started the whole ball rolling, and are the ones that can patch it up. But they're not in any hurry to do so. KGS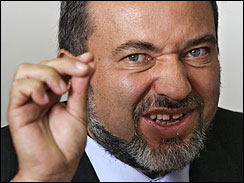 Israeli FM Avigdor Lieberman: If and when the Turks want
to talk turky, then we'll be here waiting, but not until then though
FM says Israel won't be Turkey's 'punching bag'
JERUSALEM (AFP) – Turkey is to blame for the crisis in relations between Israel and Ankara, and the Jewish state will not become a Turkish "punching bag," Israel's foreign minister said on Thursday.
In a commentary published in the English-language Jerusalem Post, Avigdor Lieberman accused Ankara of anti-Israel incitement, and warned the situation in Turkey reminded him of Iran just before the Islamic revolution.
Ties between the two countries frayed to near breaking point after Israeli naval commandos killed nine Turkish activists during a raid last year on a flotilla of aid ships trying to breach the blockade on the Gaza Strip.
But Lieberman said the tensions predated that incident, and were manufactured by the Turkish government.
"The exact genesis of the current crisis can be traced to the moment in January 2009 when Turkish Prime Minister Recep Tayyip Erdogan verbally attacked and humiliated President Shimon Peres… at the World Economic Forum," he wrote.
"This outburst was not improvised or reactive, but part of a carefully thought-out strategy."
Lieberman said Israel had no desire to see relations with Ankara deteriorate, accusing Turkey's politicians of exploiting Israel for domestic political purposes.