This is what we are fighting against, this is the end result if we fail to protect our societies from the jihad. It gets no more real than this. KGS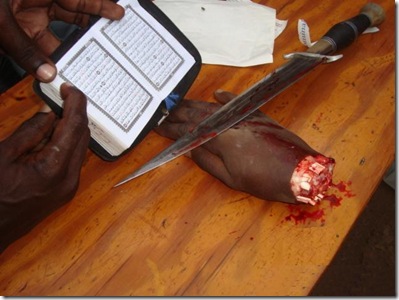 Al-shabab fighters amputate limbs of 19 years old
ALLVOICES: BAIDOA –Al-shabab fighters controlling Baidoa, a stronghold of Islamist militias in southern Somalia have forcibly amputated limbs of 19 years man in the town of Bay region on Tuesday as he was charged for banditry.
Residents told all voices office in the Somali capital Mogadishu that a court belonging Al-shabab had publicly cut off hand and leg of the young man in the town adding that they were ordered to come together for watching how they carried out the sentence there."
We were many people; we were called for gathering to a square in Baidoa town. There were also more other people. Fighters cut the arm and leg of the Youngman. We were very worried at that moments, because we could not watch further how they were amputating the man's limbs, they said, he stole some thing, then we decided to sentence him with Sharia," said one of the residents who requested to be disclosed.
Sheik Abu Feysal, the judge of the court of Al-shabab fighters had condemned him for involving banditry actions in the town for past recent months. He added that the man admitted of committing the crime before sentencing.
The man was called as Nor Mohamed Nor, aged 19 It is not new to the eyes and ears of the Somali people for seeking Al-shabab fighters cutting hands, legs of the young teenagers in south and central Somalia while they often kill; torture the civilians in the areas under their control.
H/T: TROP