The Iranian turd-bucket regime is run by a bunch of lying, cut-throat bastards, and anyone in the West caught doing business with their media ought to have their head examined, followed by years of intense psychiatric sessions and adequate medication. KGS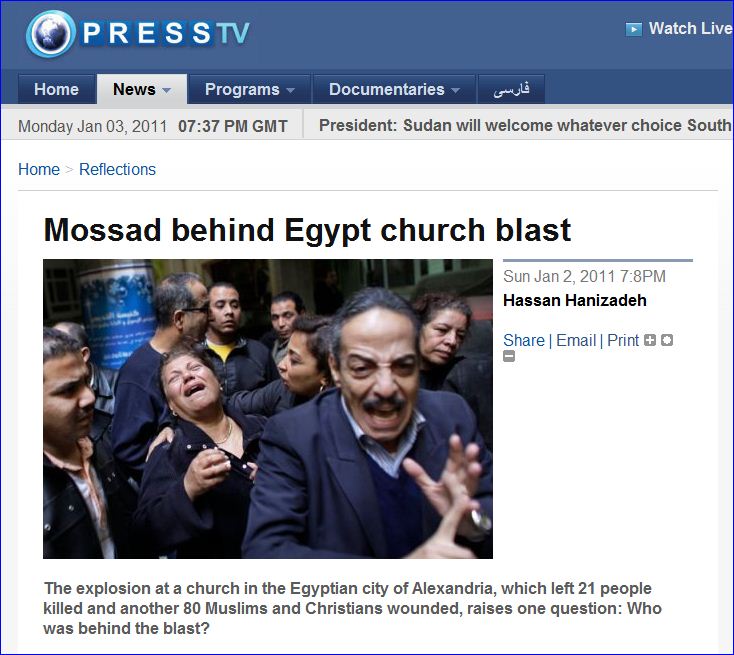 PressTV: "Attacks on churches in Egypt, Lebanon, Iraq and Tunisia can be analyzed in the context of a Zionist scenario aimed at driving a wedge between Muslims and Arab Christians. "
NOTE: "The Mossad" meme is nothing more than an euphemism for "Yahood", and the West allow them to get away with it time and again-
UPDATE: Benny Weinthal informs:
100 prominent Germans call on Iran to free reporters
Critics also direct wrath at Teheran's nuclear threats against Israel, say Germany's policy toward Iran has been too soft.

BERLIN – The mass circulation Bild am Sonntag newspaper jump-started a solidarity media campaign on Sunday to call for the release of two German journalists imprisoned in Iran.

"Let both reporters free" was the headline by Bild am Sonntag, which devoted 12 pages of quotes from a Who's Who of German society demanding the immediate release of the incarcerated journalists.

Wolf Biermann, a popular German poet and folk singer, also called for the Iranian civil society to overthrow the Iranian regime and blasted Teheran for its threat to annihilate Israel.