Sidsel Wold gives a whole new meaning to the words "hack journalist". Wear that Dishonest Reporter badge with pride Sidsel, you whole heartedly deserve it for holding an interview with Gerstenfeld without actually interviewing him then making up the rest totally out of pure cloth.
NOTE: Thanks to Norway Israel and the Jews blog for initially breaking the story and for a certain someone for forwarding that email to Wold to the TT. 🙂
Sidsel Wold: I can't be bothered with mere journalistic ethics, I'm so above and beyond that you know, most of us Lefties are.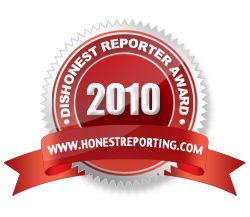 Honest Reporting: Norwegian journalist Sidsel Wold haranguing Dr. Manfred Gerstenfeld during an interview, compelling the Israeli professor to fisk his own interview.
Norway, Israel and the Jews blog has a transcript of the broadcast. Gerstenfeld was left with the unusual task of fisking his own interview in an email to Wold obtained by Tundra Tabloids.