The Tundra Tabloids is waiting with great expectation for the book to be soon released, hopefully it's full of pictures mocking the supposed 'sacred' symbols of Islam.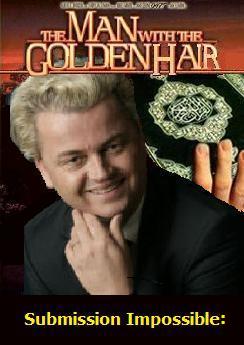 Wilders writes anti-Islam book for American market
Friday 31 December 2010
Dutch News.nl: PVV leader Geert Wilders is writing a book about how to combat Islam, aimed mainly at the American market, he told the Telegraaf in an interview on Friday. 'We can do a lot in the Netherlands but we want to send out a strong international signal to the Arabic world that a party with a lot to say is fighting back,' Wilders told the paper. Wilders said he has many international ambitions and hopes to get his International Freedom Alliance up and running. He also expects the PVV to win between 10 and 15 seats in the 75-seat senate.
Here is the TT's suggestion for the cover: