Regardless of the "good periods" in their history, minorities living in Muslim lands live a precarious life, with only "an incident" -like a rumor of a Koran defacement circulating a village, or a ruler who happens to carry a grudge against Jews or Christians- standing between their life and death. KGS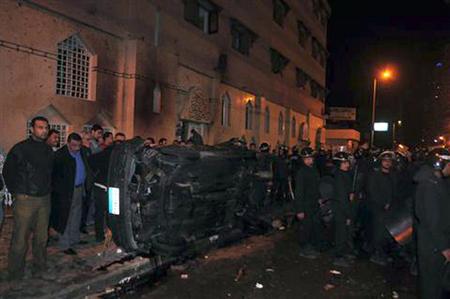 H/T ESW
J'accuse
Hani Shukrallah , Saturday 1 Jan 2011
Hypocrisy and good intentions will not stop the next massacre. Only a good hard look at ourselves and sufficient resolve to face up to the ugliness in our midst will do so
We are to join in a chorus of condemnation. Jointly, Muslims and Christians, government and opposition, Church and Mosque, clerics and laypeople – all of us are going to stand up and with a single voice declare unequivocal denunciation of al-Qaeda, Islamist militants, and Muslim fanatics of every shade, hue and color; some of us will even go the extra mile to denounce salafi Islam, Islamic fundamentalism as a whole, and the Wahabi Islam which, presumably, is a Saudi import wholly alien to our Egyptian national culture.
And once again we're going to declare the eternal unity of "the twin elements of the nation", and hearken back the Revolution of 1919, with its hoisted banner showing the crescent embracing the cross, and giving symbolic expression to that unbreakable bond.
Much of it will be sheer hypocrisy; a great deal of it will be variously nuanced so as keep, just below the surface, the heaps of narrow-minded prejudice, flagrant double standard and, indeed, bigotry that holds in its grip so many of the participants in the condemnations.
[…]
I accuse those state bodies who believe that by bolstering the Salafi trend they are undermining the Muslim Brotherhood, and who like to occasionally play to bigoted anti-Coptic sentiments, presumably as an excellent distraction from other more serious issues of government.
But most of all, I accuse the millions of supposedly moderate Muslims among us; those who've been growing more and more prejudiced, inclusive and narrow minded with every passing year.
I accuse those among us who would rise up in fury over a decision to halt construction of a Muslim Center near ground zero in New York, but applaud the Egyptian police when they halt the construction of a staircase in a Coptic church in the Omranya district of Greater Cairo.
I've been around, and I have heard you speak, in your offices, in your clubs, at your dinner parties: "The Copts must be taught a lesson," "the Copts are growing more arrogant," "the Copts are holding secret conversions of Muslims", and in the same breath, "the Copts are preventing Christian women from converting to Islam, kidnapping them, and locking them up in monasteries."
I accuse you all, because in your bigoted blindness you cannot even see the violence to logic and sheer common sense that you commit; that you dare accuse the whole world of using a double standard against us, and are, at the same time, wholly incapable of showing a minimum awareness of your own blatant double standard.