What will the leaders of the Christian world do? Nothing. KGS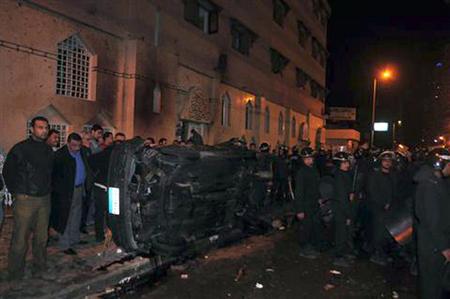 Car bomb hits church in Egypt, 21 killed
(Reuters) – A car bombing outside a church killed 21 people in Egypt's northern city of Alexandria as worshippers gathered to mark the New Year, security and medical sources said on Saturday.
The Interior Ministry earlier said 24 people were also wounded in the bombing, which prompted hundreds of Christians to take to the streets in protest. Some Christians and Muslims pelted each other with rocks, a witness said. Cars were torched.
Christians in Muslim-majority Egypt make up about 10 percent of the nation's 79 million people.
Egypt, due to hold a presidential election in September, has stepped up security around churches, restricting cars from parking directly outside them, after an al Qaeda-linked group in Iraq issued a threat against the church in Egypt in November.
The al Qaeda-linked Islamic State of Iraq, which claimed an attack on a church in Baghdad in November, threatened the Egyptian church over its treatment of women the group said the church was holding after they had converted to Islam.
"This is a scene from Baghdad," a witness told Reuters by telephone.
Police used teargas to disperse the crowd on the streets. Ambulances were also at the scene where medical personnel gathered body parts that were scattered over the area.
"We sacrifice our souls and blood for the cross," shouted protesting Christians near the Coptic Orthodox church where the blast struck, a witness said.
SERVICE
A statement from the Interior Ministry said the blast occurred just after midnight in front of the church after a service to mark the New Year. It said the blast damaged a mosque near the church and eight Muslims were among the 24 wounded.