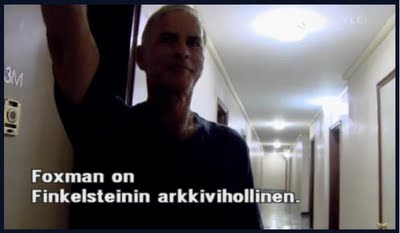 Norman Finklestein is a lying psychopath, and his mental disorder of Israel hatred is revealed for all to see in this cross talk video by Russian TV. KGS
H/T: Vlad
UPDATE: Here's a video from Memri that validates the points made by the two speakers, that Finklestein's denial of the New Anti-Semitism is absurd in the face of the facts.
New Trends in Arabic Anti-semitism from Henrik Clausen on Vimeo.
This MEMRI production shows examples of anti-semitism in modern-day Arab media, including using original national socialist footage to justify Islamic resentment against Jews. Originally presented to the UN Human Rights Commission, Geneva, September 28th 2010.
Note: MEMRI is doing an outstanding job at documenting racism in the Middle East. Please support them if you can.