The ROP tried to deliver a Mumbai style of attack upon the newspaper that dared to publish the dreaded pics of Mohamed. Esther over at the Islam in Europe blog noted that the move on the jihadis coincides with the Wikileaks release of info surrounding the US admistration's pressure upon the Danes not to republish the same pics. KGS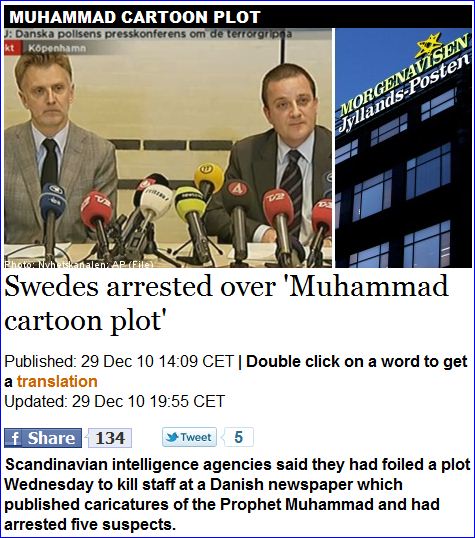 Swedes arrested over 'Muhammad cartoon plot'
The head of Denmark's PET intelligence service said four men were arrested while a spokeswoman for Swedish intelligence agency Säpo said a fifth man had been arrested in Sweden in connection with the same plot against the Copenhagen-based Jyllands-Posten daily.
"It is our sense based on intelligence that this is a militant Islamic group with links to international terrorist networks," PET head Jakob Scharf told reporters.
They were planning an attack "within the next few days," PET said in a statement.
In an email to Danish news agency Ritzau, Danish justice minister Lars Barfoed said the arrest of the suspects, who had a "militant Islamist background," prevented what could have been the most serious attack to ever occur in Denmark.
Scharf told the news conference "the plan was to try to gain access to the location of Jyllands-Posten in Copenhagen and to try to carry out a Mumbai-style attack."