This is yet another example of the city leaders not giving a care about what the locals think or feel, they just go ahead with their plans for more "multiculturalism" without ever considering what "Matti or Maija" think. Be sure to take notice the section where the secretary for the Shiia community insists that it's "not just for Muslims", it's the same nonsense being used by the Ground Zero mosque Imam, Faysal Abdul-Rauf, who's planning on building a mega mosque upon the cemetery of 9/11. KGS
NOTE: Yep, the people are really angry, and once the mosque is up, it will only be a matter of time before they start demanding the open call to prayer by loud speaker, then you're really going to see a lot of angry Finns.
Mosques are our barracks, domes our helmets, minarets our bayonets, believers our soldiers."
H/T: Vasarahammer
Mosque in the middle of a suburb
Eastern Helsinki is quietly building a Grand Mosque and Islamic Cultural Centre.
Mainly Iranian Shia Muslims, consisting of the Resalat (guidance)-Community has purchased a former restaurant in the middle Mellunmäki property, which is currently being renovated in great haste.
The aim is to move the mosque in Laajasalo and Islamic center to the new premises as soon as possible.
Large spaces
– Infrastructure is growing fast. Laajasalo became too crowded for us, "explains the Community Cultural secretary, Madjid Bahmanpour.
Approximately 700 square meters of restaurant space will be renovated using volunteer labor. Toilets need to be developed, and the restaurant's red-colored walls painted white. The center will also have an Islamic library, educational and exhibition facilities and a small cinema.
If the city gives the permission, the building is to painted red to white within and without.
Of most importance is the former dining hall, which will initially house 150 people for the mosque. During renovation of the center there has already been distributed green oriental carpets for prayers.
Madjid Bahmanpour thinks that it's going to be at least another couple of months before the mosque can be readied, and celebrate the opening of the first moment of prayer.
Many are alienated
The neighbors near Kaunispääntie 5 where the Islamic Centre is rising have followed the workmen's renovation  with confusion. Rumors about the state of Islamic culture have caused concern, but knowledge  of the mosque's construction angered many.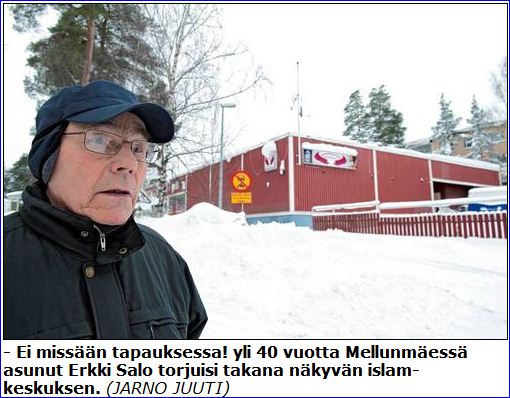 – Not under any circumstances. I certainly will be collecting petitions against this, rumbles Erkki Salo, 82  who has lived over 40 years Mellunmäki.
Paul Silverman, 75, would also be willing to sign the same petition.  The man has lived in Mellunkylä from -73 onwards. Now, the mosque being built under his window.
– I don't like this, "he says.
Lea Mandolin  who is currently living with relatives  in the apartment.
– I wouldn't be very happy if I had my own place here, "she says.
"We are peaceful,"
Resalat community is aware of readily emerging prejudices and fears.
– But we are quite clean and peaceful people. We did not have any problems in Laajasalo, I do not think that we will have problems here, Madjid Bahmanpour says.
– Our facilities are open to everyone, not just for the Muslims, he notes.