Oh and remember, the problem with Islamic fundamentalism, are the fundamentals of Islam. KGS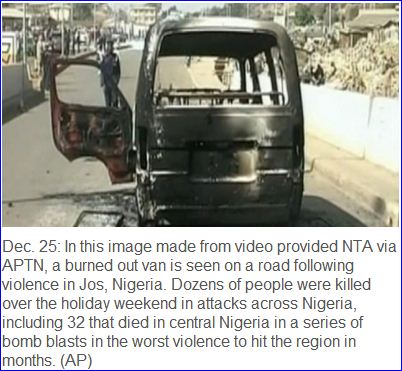 Radical Nigerian Muslim Group Claims Terror Attacks
JOS, Nigeria — A radical Muslim sect has claimed responsibility for the Christmas Eve bombings and church attacks in Nigeria that killed at least 38 people, and the group threatened new attacks to avenge local violence against Muslims.
Religious fighting has left more than 500 people dead this year in the deeply divided region where Jos is located. Authorities had already blamed the Boko Haram group for some of the deaths Friday.
"Therefore we will continue with our attacks on disbelievers and their allies and all those who help them," said the group, which also said it has taken on a new name.
Two bombs went off near a large market in Jos where people were doing last-minute Christmas shopping Friday. A third hit a mainly Christian area of Jos, while the fourth was near a road that leads to the city's main mosque. Officials said at least 32 died from the blasts.
That same day, two churches were attacked in the northern city of Maiduguri about 320 miles away, killing at least six people. Authorities said a Baptist pastor and two choir members preparing for a late-night carol service were among the victims.
h/t: ZIP