With bastards like the Hamas Azzam Tamimi, running around loose in the UK, it's a no brainer.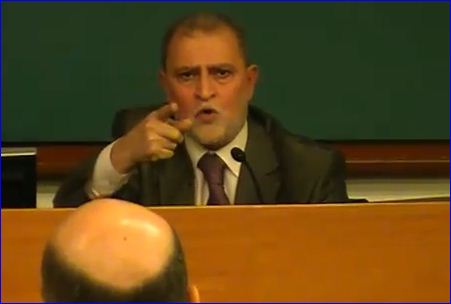 Here's the jihadi pointing at the Tundra Tabloids in Helsinki after I alluded to his TV station being funded by Iran. The Islamonazi was very pissed off. KGS
H/T: Vlad
London is home to Hamas hub, says Israel
Israel's defence ministry has accused a London-based Palestinian centre of "terror-affiliated activities" and being the organisational arm of the militant Islamic Hamas movement in Europe.
Hamas, which controls the Gaza Strip and advocates violent opposition to the Jewish state, is designated by the European Union as a terrorist organisation.
An Israeli defence ministry statement issued on Tuesday said that the Palestinian Return Centre in Ealing, north London, organises conferences in Europe at which it plays taped speeches by Hamas leaders who are banned from entering the EU.
"The centre is involved in initiating and organising radical and violent activity against Israel in Europe, while delegitimising Israel's status as a nation among the European community," the statement said.
"Among other terror-affiliated activities, the centre organises many conferences in various European countries for Hamas and Muslim Brotherhood activists from all around the world," it added.
On its website, the centre describes itself as "an independent consultancy focusing on the historical, political and legal aspects of the Palestinian Refugees."
Israel however, says it is is "part of the broader Hamas activism and support network within Europe, which is especially strong in England."