If the story is true, and that's a big if, then, Ali Akbar Siadat, is an international hero and should have a few streets named after him here in Europe and in Israel to preserve his memory. Any Iranian who works against the genocide promoting mullah led regime is a hero. KGS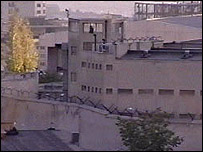 Iran hangs 'Mossad spy'
Iran hanged on Tuesday a man found guilty of giving information on Iranian missiles to Israeli intelligence service Mossad, state news agency IRNA reported, quoting the Tehran prosecutor's office.
Ali Akbar Siadat was hanged in Tehran's Evin prison after having been condemned to death for "working for Mossad," said the prosecutor's office, IRNA reported.
Siadat was found guilty of having had links with Mossad for six years, said IRNA.
"He had received 60,000 dollars to give classified information to the Zionist regime," IRNA reported.
IRNA said Siadat had acknowledged having established contacts with one Israeli embassy overseas and that he had been giving information "about missiles belonging to the Revolutionary Guards."
He was also transferring information of Iranian military bases to the "enemy," IRNA said. Three years ago Siadat had received a computer and other equipment for his work, the report added.
Siadat used to meet his contacts from the Israeli intelligence service in Turkey, Thailand and Netherlands in different hotels, IRNA said.
He was arrested two years ago with his wife while trying to leave Iran, the report added.
Iranian media on Sunday announced that another Iranian had also been sentenced to death for working as a "spy" for Israel.