The Baron boils down all the essential oils where Russian Islam is concerned, revealing an altogether different picture of what's actually happening inside Russia, something of which both the Russian political elite and the Western main stream media are desperately trying to paper over the best they can. KGS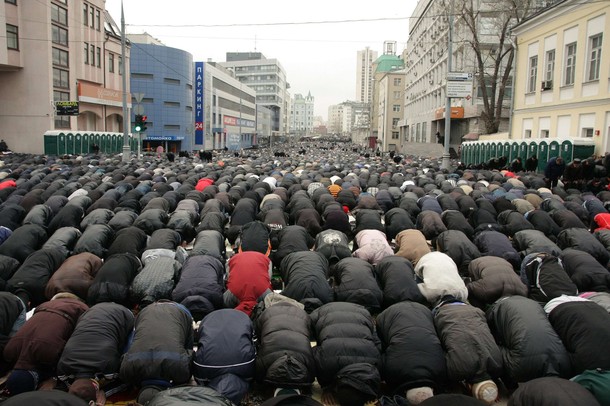 The last paragraph provides a hint as to what might be causing all this newfound "feistiness":
Commenting on the recent clashes between Nationalist hooligans and mostly Muslim immigrants from the Caucasus, Gainutdin emphasized the existence of tensions in the capital home to more than two million Muslims. He also pointed out the need to build new mosques in Moscow, where the faithful are forced to pray, for lack of space, "in the streets, on tram lines, and even in the courtyards of churches." "This humiliation, this discriminatory policy against civil rights continues, before the eyes of Muslims around the world."
Mr. Gainutdin is reminding the oligarchs who rule Russia that he has two million troops under his command in Russia's capital city. This is a warning to Vladimir Putin to shorten the chain on his nationalist "hooligans", or face the consequences. Judging by the roundup of young nationalists over the past week or so — the last I heard, a couple of thousand of them were in preventive detention — Mr. Putin has gotten the message.