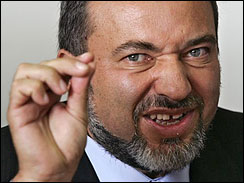 A.Lieberman: The Arabs are not even that close to wanting peace
As long as they (the Arabs) reject ending their war with the Jewish state, it will continue, it's that simple. KGS
Israeli foreign minister: peace is 'impossible'
JERUSALEM – Israel's foreign minister said Sunday a peace deal with the Palestinians is impossible under current conditions and that Israel should pursue a lesser deal instead — a concept the Palestinians swiftly rejected.
The latest diplomatic spat between the two sides came as violence along the Israel-Gaza border simmered. After days of accelerated Palestinian rocket attacks on southern Israel and Israeli airstrikes in response, Israeli soldiers killed two Palestinians on the border early Sunday.
Avigdor Lieberman, the Israeli foreign minister, told a conference of Israeli diplomats that instead of a full peace deal, Israel should seek a long-term, interim agreement on security and economic matters. Palestinians have consistently rejected that approach.
"It's not only that it is impossible" to reach an overall agreement, he said. "It is simply forbidden."
Lieberman said the West Bank Palestinian Authority — with whom Israel has pledged to negotiate — is "not legitimate" because it has postponed elections. Palestinian President Mahmoud Abbas remains in office though his term expired almost a year ago, and there is no date for a new election.