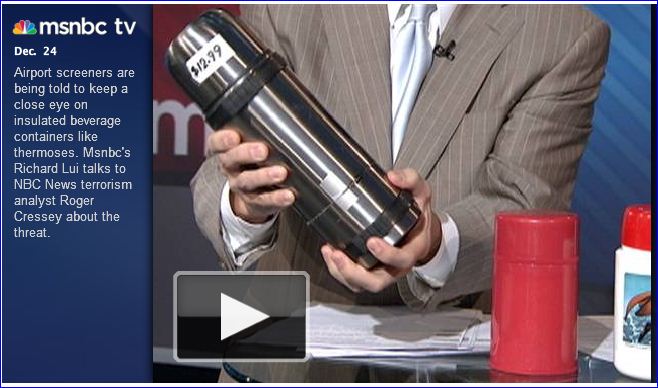 H/T: VLAD
Stratfor:
The U.S. Department of Homeland Security has alerted air carriers that insulated beverage containers are a potential bombing tactic, AP reported Dec. 24, citing an unnamed official. However, there is no intelligence of a specific threat under way that involves the items, the official said. He said travelers may see airport screeners look more closely at empty insulated containers.
TSA alert: Thermoses could be used as bombs
MSLSD: WASHINGTON — U.S. authorities are warning air travelers to expect greater scrutiny of thermoses and other insulated drink containers at security checkpoints after intelligence suggested they could be used to hide explosives.
A notice on the Transportation Security Administration's website warned about the possibility that explosives might be hidden inside the beverage containers and said the warning was "based on intelligence."
It said TSA "is carefully monitoring information related to terrorist tactics and working with our international partners to share information and security best practices."
Those carrying the containers can expect additional screening of them using procedures currently in place, including X-rays, physical inspection and the use of explosives detection technology, the notice posted Thursday said.
There is "no information related to any specific or imminent threat," Ann Davis, a spokeswoman for the Transportation Security Administration, told Reuters on Friday.