The Tundra Tabloids has been forwarded a video by commenter, Jacob_M, which shows that the bishop, who called the men intervening into his grandstanding at a Sweden Democrat political campaign rally last summer, was not manhandled in any way, as well as the security guards being members of the Swedish police. KGS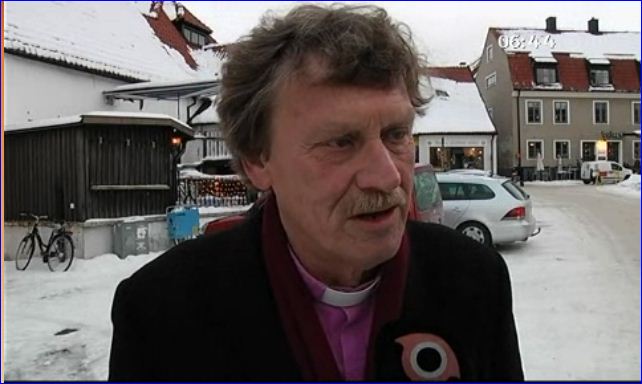 Bishop of Visby, Götland, LENNART KOSKINEN: "My intention was to be really peaceful, but they quickly came with two gorillas and tried to drive this Finnish man away (referring to himself)."
NOTE: A real man of the people, a fighter for justice, really? When has this guy ever stood up for Arab Christians fleeing Muslim violence in Iraq, or heard condemning the Swedish government's decision to send his co-religionists back to Iraq, straight into the lions den, or even condemned the Islamic jihad against Copts in Egypt? Nope, not a word from this peace warrior.
Lets go to the video tape:
Jacob_M continues:
Two gorillas? Isn't it a criminal offense to refer to police officers in that manner? I seem to remember that it is just that here in Sweden. The big fellows leading him away are Swedish Security Police (SÄPO). If the lying bastard came up with a pretty amazing story regarding how he ended up disrupting the debate between Björn Söder, party secretary of the Sweden Democrats and a representative of the (not very Christian) Christian Democrats.
The story he told was something along the line of how distraught parishioners had sought him out to tell him that Nazies were holding a meeting in the town square and how they asked him to do something about it or something similar, making him hurry to the scene to take action. He even "quoted" what the parishioners had said to him. He also said that he had no idea who he approached or that it was a debate between the Sweden Democrats and the (not very Christian) Democrats.
It should be noted that Lennart Koskinen has previously (before this happened) publicly voiced support for the (not very Christian) Christian Democrats.
In this news-clip from the event, we are showed a parts of the above video. It's great humour. The reporter voice tells of the event how the (reps of) Sweden Democrats use force to remove the Bishop, followed by Koskinen himself telling how the Sweden Democrats used violence to remove him.
Look at the first Youtube clip again.
Does any Sweden Democrat in that clip use violence against Lennart Koskinen? I remind you that the rather large fellows leading Koskinen away in that clip are members of the Security Police, responsible for the safety of politicians during this event – as well as the general safety of top politicians in general.
NOTE: The original video interview (in Finnish) can be found here. Clearly, his version of the story omits some of these important facts, it was a debate in question, not just a rally for the SD. He purposefully left that out, and the MTV3 Finnish journalist, Kari Lumikero couldn't have cared less to do a background check into the story itself, something of which he's rather prone in doing in his reporting.