Arab Christians are being led like lambs to the slaughter throughout the ME, and Western leaders (political and religious) are crying for more understanding and tolerance towards Islam. KGS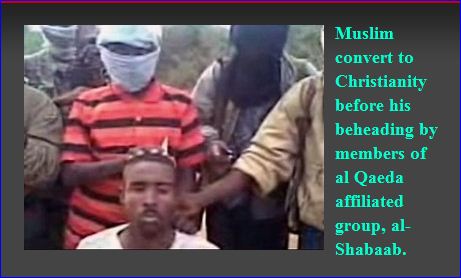 More than 100 Arab Christians in Canada named on Al Qaida-affiliated website
WinnepegFreePress: VANCOUVER – More than 100 Canadian-Arab Christians are listed on an al-Qaida affiliated website, apparently targeted because of their alleged role in attempting to convert Muslims.
Some of those named say concerned Canadian intelligence officials have contacted them.
The Shumukh-al-Islam website, often considered to be al-Qaida's mouth piece, listed pictures, addresses and cell phone numbers of Coptic Christians, predominantly Egyptian-Canadians, who have been vocal about their opposition to Islam.
In a forum on the website, one member named Son of a Sharp Sword, says "We are going to return back to Islam and all of the Mujahedeen (holy warriors) will cut off their heads."
Three pages of the fundamentalist, Arabic-language website titled "Complete information on Coptics" sets to "identify and name all of the Coptics throughout the world who hope to defame Islam," The website calls the Coptic Christians living abroad "dogs in diaspora," a derogatory reference in Arabic.
Among those named on the Shumukh-al-Islam website is Samuel Tawadrous, a Coptic Egyptian living in Quebec.
"This is a direct threat against our lives," Tawadrous said in an interview.
"They are trying to inform each other in hopes that someone can carry out this threat. They could be in Egypt and they could be here. Our names and our pictures are listed."
Tawadrous's picture and cell phone number were listed on the site.
One of the prominent figures listed on the website is Salim Naguib, who helped establish a Coptic organization in Canada. Naguib is described on the website as opposing Islamic Shariah and converting Muslims to Christianity. His picture, career background and cell phone number are listed on the website.